Written by Cristina Morales, member of the Board of Amics del Nepal, with the collaboration of Miquel Comas and Daniel Roig.
Drawings by Ramesh Syantang boy of 14 years of Bhimphedi Childrenps Home, who has lived 10 years with Jay.
Jay has a smile that grabs you and does keeps with you and takes you to the highest cloud sky beyond…
Now is one of the eldest in the house, where he is loved by everyone: he helps in the kitchen and the children, always ready to play football rather than to do homework… with a confused apperance, sometimes it seems that he plays to hide what he understands; he does not speak much, but his look is noble as the water of the rivers of the Himalayas.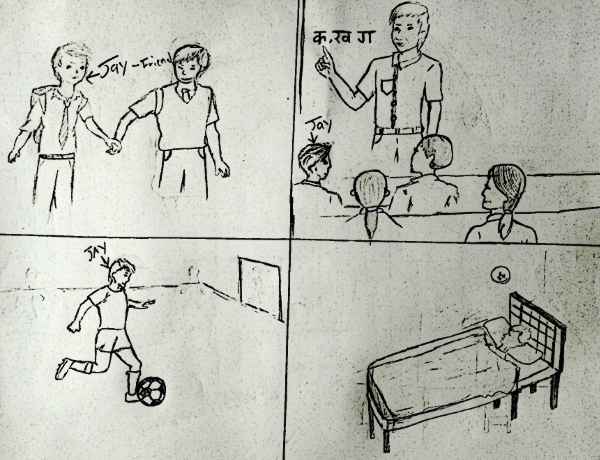 Jay does not like the surname "Balak". It is not his real surname, but the one Nepal Children's Organization gave to him when they took him, it means "child" and means that the person has no known origin or caste, there is a stigma to it… so he decided to change the name and take Anish Rana as own.
Sometimes Jay/Anish wonders why he has lived for 14 years in Balmandir the Children's Home of Bhimphedi. Some nights, while listening to the laughter and confidences of the caretakers, carrying utensils in the kitchen when almost everyone sleeps, watches the sky full of nearby stars and dreams awake that somewhere, maybe in the mountains or perhaps in the hot plains of Terai, now there is a woman who looks to the same Nepalese sky, remembering a child that was lost long ago…
Jay has grown up, it's time to leave the house and start a new life. He carries with him the gift of solidarity: an education, a secure environment for his childhood, proper food, personal care, affection, friends and family of a different kind: Amics del Nepal, working, with the help of so many people of good faith, so that Jay and many like him have more opportunities in the future.
As a condition to integrate into society and find better jobs to be independent, Jay should get the Nepali identity card. Not knowing the exact origins of a person, this process is very complicated. For Jay/Anish it will be very difficult to get his ID…
Searching for distant memories still stored in his memory, suddenly, one day Jay/Anish could say to Krishna, the director of the Bhimphedi Children's Home, a name that reminded him of his place of origin: "…laghara…".
And with this name Krishna decided to embark on the adventure of going to all the villages with a similar name to "Laghara" near the police station where Jay was found, to try the foolish and risky task of finding a relative of the boy. Hours in bus, three days of frantic visits to offices of police, meeting with people of different communities, local government officials…
One night, a family from a village from three hours walk reached the police headquarters. They heard the news of this young reunited. Won't it be the son who they lost 14 years ago while accompanying his mother to cut grass for the buffalo?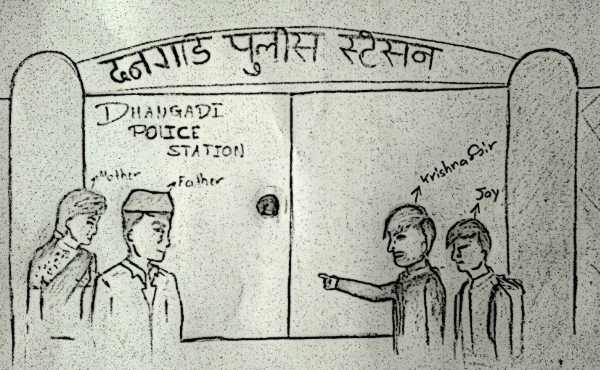 The marks behind the ear and hand do not lie. Nor his factions… a miracle! whole family burst into tears of joy. The next day more and more people come from the village to the police station to see with their own eyes the boy who lived!
14 years ago, a mother left with her three years old son to go to cut grass for their cattle. It is a very common job in Nepal, anyone who has seen it has been disconcerted watching Nepali women loading huge piles of grass hanging from their forehead walking up in the steep paths of the Nepali hills as if it was not a superhuman job… The name of this boy who accompanied his mother was Dipendra Malla son of Jay Malla.
But that day something unexpected happened that would change that boy's childhood. In a moment of distraction, he lost sight of his mother! The boy walked and walked, but he could not find his mother again. Finally he reached to an urban area, where the police picked him, but he was only able to say "Jay"…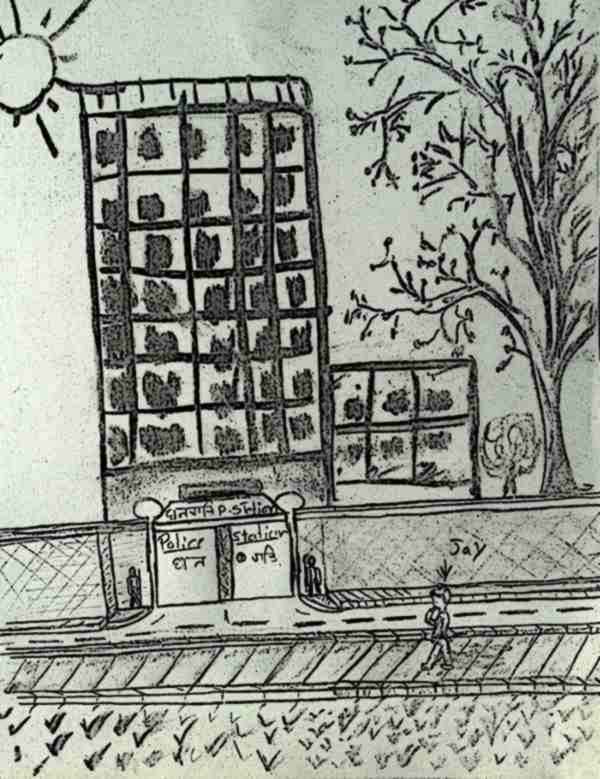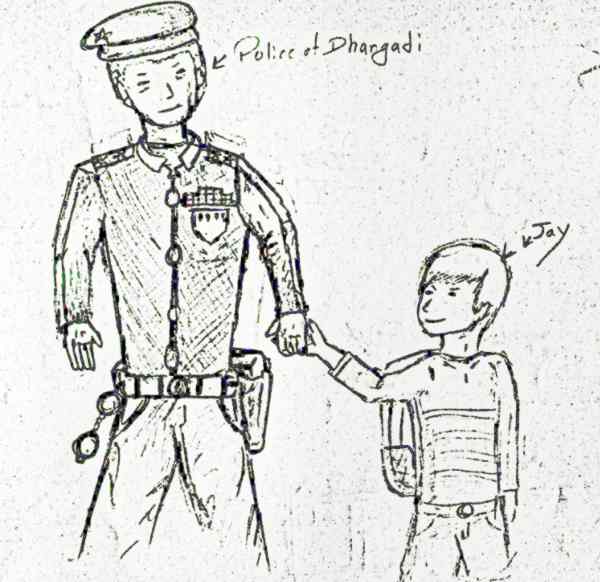 His family was looking for him for weeks, but finally they had to accept the tragic "reality", his son was dead. No sense to keep looking, much less to go to the city, three hours away, to talk to the police at that time of civil war between the Maoists and the rulers, many people died at that time…
Police label Jay as orphan, and gave the surname "Balak". They put his photo in the newspapers but he was never claimed, so he was transferred to Bhimphedi Children's Home, where he lived for 14 years under the tutelage of NCO and Amics del Nepal.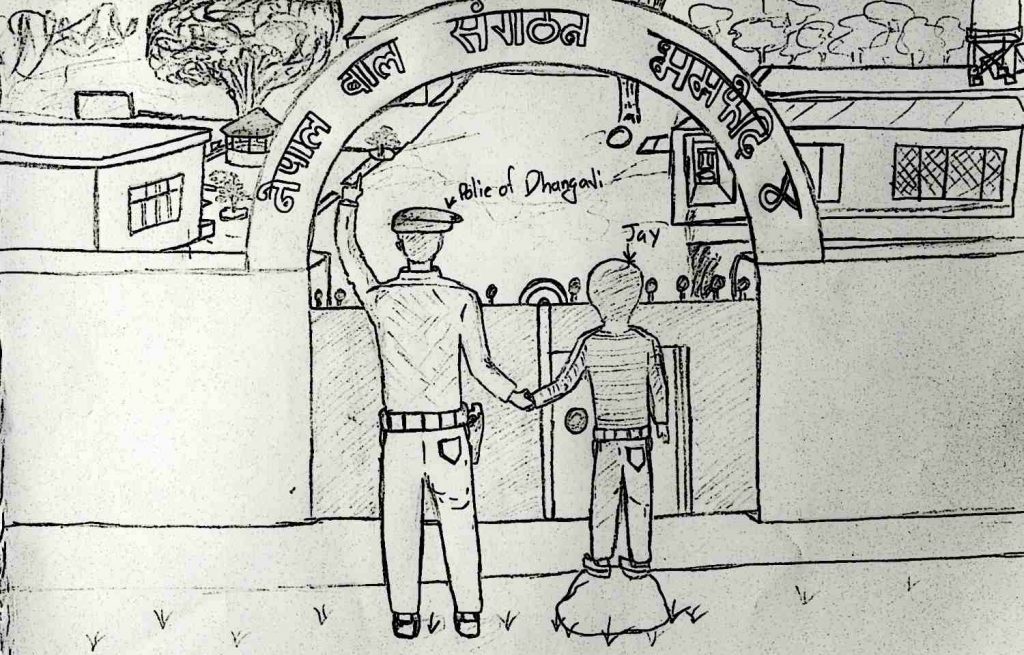 But now, on any day of autumn, it seems that life has wanted to reward the determination of those responsible for the Children's Home to help Jay/Anish/Dipendra to find his origins, and the boy with the captivating smile has gone from being an orphan to have mother, father, two brothers, one sister and uncles, cousins… everyone is very happy and surprised of this event!
Two months later, Anish already has his Nepalese citizenship, there his name is Anish Malla and now he is doing all steps to correct the information in the certificate of secondary education. He has even got time to register for further education in the closest city to his hometown.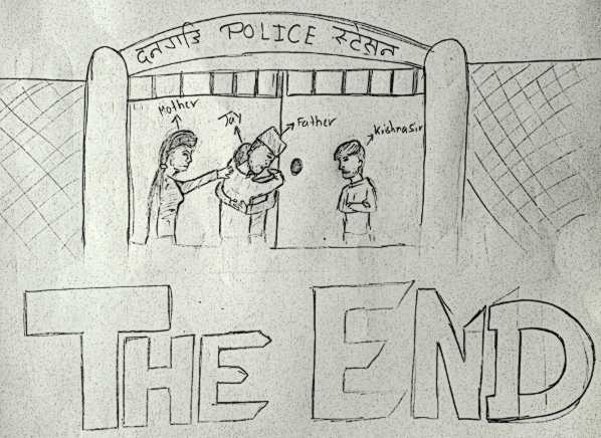 This Christmas story is a true story, example of other stories of this 2016 of boys and girls from Bhimphedi Children's Home, as Susmita Syantang, Bipana Khadka, or the brothers Ramesh and Som Thami, who, thanks to tireless work of those responsible of Balmandir-Bhimphedi-Amics del Nepal, have given the most important gift the them, to rediscover their roots, to reconcile them with their origins and make them unique people, important and loved by their family.
On behalf of the entire team of Amics del Nepal, I wish the best for this 2016 Christmas and that this New Year fills our lives of Happiness and Solidarity.