DANI (Cooperating with Amics del Nepal in Bhimphedi)
After 17 days of the earthquake, it seems that the aftershocks are becoming softer. People, though is still frightened, struck by the death toll of over 8,000 and touched because many people have lost their homes or they are cracked, it appears that the activity is slowly coming back. People begin to move the rubble of the houses. Nearly a million people had left the city Kathmandu again slowly. The government announced that schools will begin next Sunday and is preparing actions to mitigate the consequences of the earthquake.
I decide to go to Kathmandu to do some work that I have pending, including help one of the children from the center to get his ID. We want to leave on Saturday or Sunday, but the jeeps to go to the capital are full. People go back to the capital to continue their tasks (open their store, working with their taxi…). We finally got tickets for Monday. The jeep normally carries 9 passengers and the driver, this time we are 10 plus the driver. And just before arriving at a police checkpoint the driver asks a truck to carry one of our passenger some kilometers, to avoid the fine.
Just after arriving to Kathmandu we quickly start doing our works so we can come back to Bhimphedi as soon as possible. The next day we asked for some documents that are needed to make the identity card of Shree. They tell us the documentation is in a building that has been affected by the earthquake and they are afraid to enter to pick them. But they will tell us something in the afternoon, because a team of policemen may take a look to the building. But it's been twelve… and it's almost one in the afternoon…
MIQUEL (Cooperating with Amics del Nepal in Kathmandu)
Days in Nepal continuously change. Here life can switch at any time unexpectedly. You never know what, how, with whom, even when something will happen. And suddenly comes a quake. A quake that lengthens. A quake that stretches and is not a replica. An earthquake, it is an earthquake and you have to hurry.
I still remember the great earthquake say. After it happened I said to myself and my friend:  "Do you want to stay here and wait or do you want to see what happened?". An earthquake does speed up the heart and I assure you that our fear could be appeased even by the infinite curiosity to know what had happened. So we went around the city in the splendor of large aftershocks.
But that was 18 days ago. Now we returned to go home after a new earthquake. Then came Dani and Shree. We were all quiet in different degrees. Some had more fear. Other more relaxed. A new earthquake. Fuertecillo long. Let's making forecasts: May 1, not June 1 point something … 7.1 … about 20 seconds … Finally July 1 point 3 point 4. They are certainly not good news. People who had left the streets, resumed sunrooms. The shops had reopened, all closed. The cars they occupied the streets, they disappear and leave a strange silence.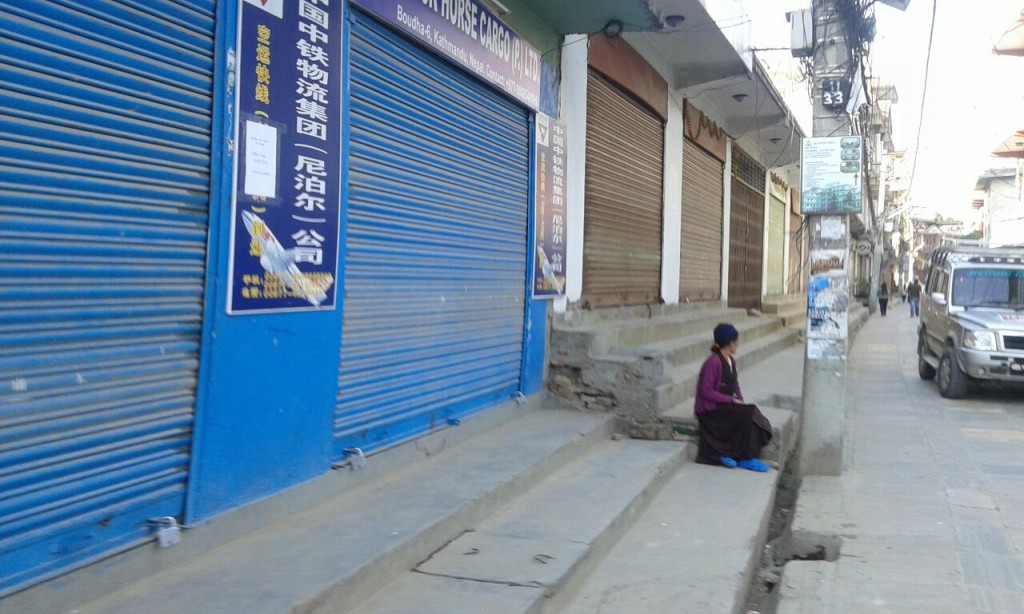 Sure there will be dead. Here nothing has happened. Have they fallen buildings? We started to call and send messages. Everybody calls everybody. It seems that the lines do not fail today. No connection. We can live all "live". We have more access to information and informants, this time, have access to us. The burning Whatsapp, Facebook twists.
We will also talk to people asking if they know anything. People seem to not return home. I go out to see the Stupa. The street is deserted, not a soul, I miss those times silence. In the Stupa we can see someone else, some who go round, others walk … After an earthquake although most accumulating on Esplanade to expect aftershocks, always find those who are branded as "foolish" and can not stop going to and fro. The Stupa is worse. I return home. And start calls from Spanish media.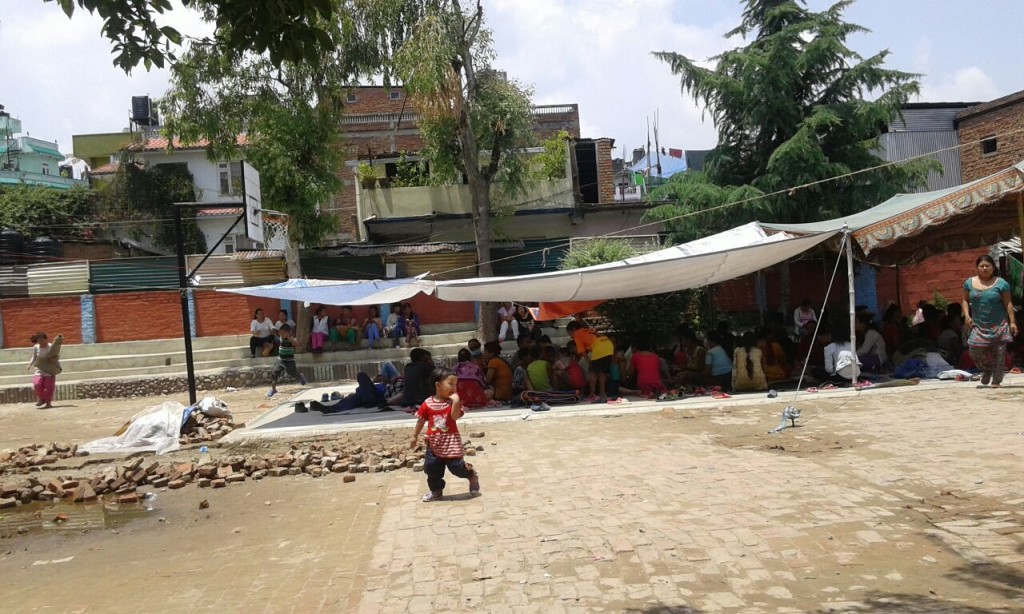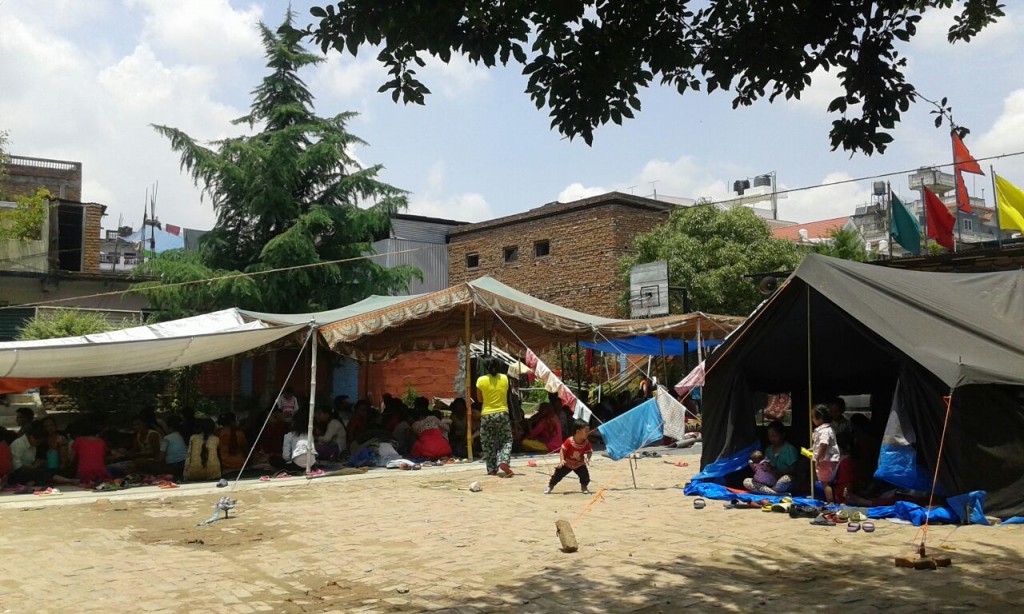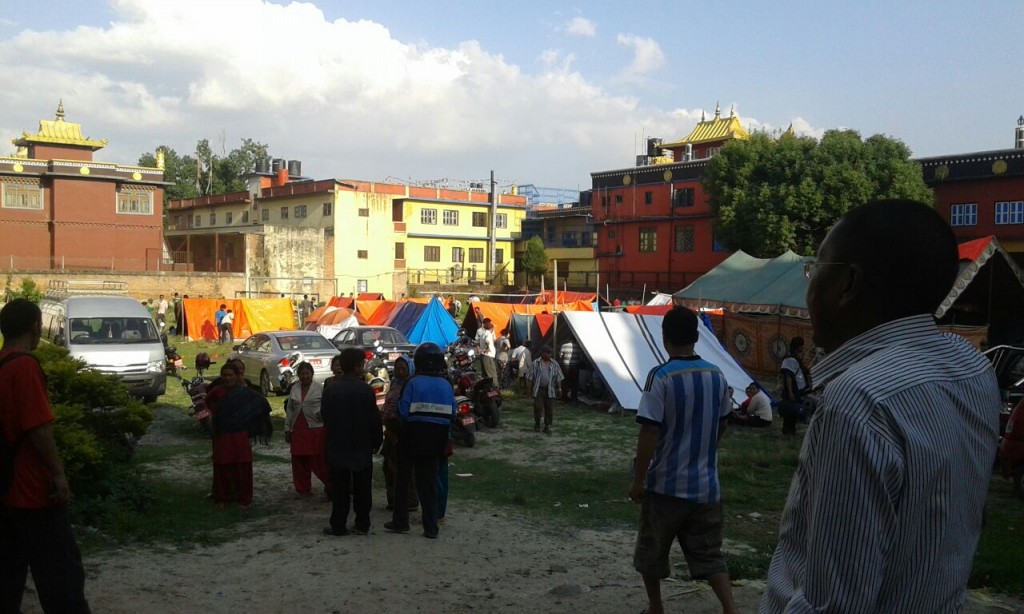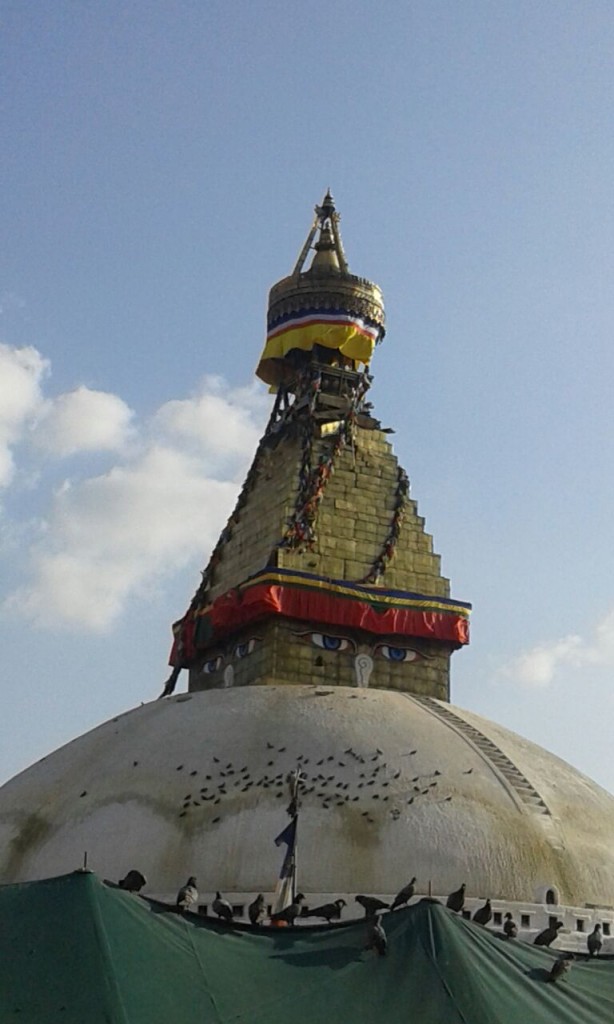 It seems odd as they get the news away from the news. From there the expectation has always been great. There has been talk of tragedy and great misfortune. It certainly has been, the amount of lives lost and material damage are very high. What is more surprising, however, anyone who talks to us is that in the midst of destruction we are well, we slept at home and our fear level is medium. And the earthquake is not over yet, no, there's plenty of walking and we luckily and fortunately we are in a place that for now everything is as it was before and after the first earthquake.
But beyond what anyone says or does not say on TV and the press, the reality is always more colorful when you see it with your own eyes. Today is the second night after the second earthquake. People have invaded the street. This time already has stores in more sophisticated campaign. There seems to be more fear, a fear more elaborate, less visceral than the first. Not just to understand if it is a reply or a new earthquake …
But remember something before finishing:
"The days in Nepal surprisingly rotate continuously. Here life can turn around at any time unexpectedly. You never know what, or how, or with whom, even when they happen. And suddenly you do not know how this Once you'll be surprised. "
I always tell Dani: this country is surreal and then laughed. And sometimes we look and say to ourselves, "Surreal". And sometimes we call and say "Surreal". So I hope that Surrealism surprisingly not leave us as we try to restore our normal again.
It is always difficult to have enough time to do all we are requested. This time google translator made it possible to turn it into English, even if the structures are light and sometimes even no sense. Please forgive us.